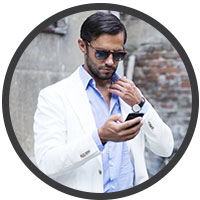 SCHEDULE AN APPOINTMENT
Call or email us to schedule an appointment at a time that works best for you! We work by appointment only from our midtown showroom or we can visit your NYC or Palm Beach office.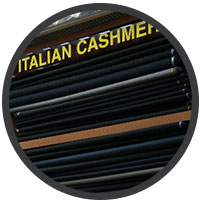 SELECT FABRIC
At the first meeting, we will help you to determine your clothing needs. We will analyze what you have in your closet, as well as your job and lifestyle habits to determine what fabrics will work best for you. You will have thousands of fabrics to choose from and we will help to style your items so that you look and feel your best.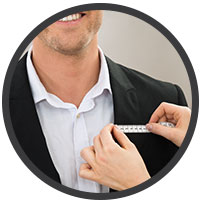 GET MEASURED
After we design your beautiful new threads, we will take at least 38 measurements. We don't rely solely on our tape measure, but more importantly, we depend on our eye. Your posture and proportions are essential to create the perfect fit for you. After you're measured, your individual pattern is created by some of the finest tailors in the world.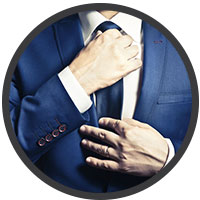 PICK UP YOUR ORDER
Within 6-8 weeks your new clothing will be ready for your first fitting. Our showroom is conveniently located in midtown Manhattan and we will work together to make sure the fit is both comfortable and stylish. If adjustments are needed, we ask for an additional week or two to make the alterations. Once we are pleased with your fit, your follow up orders can be as easy as a phone call.